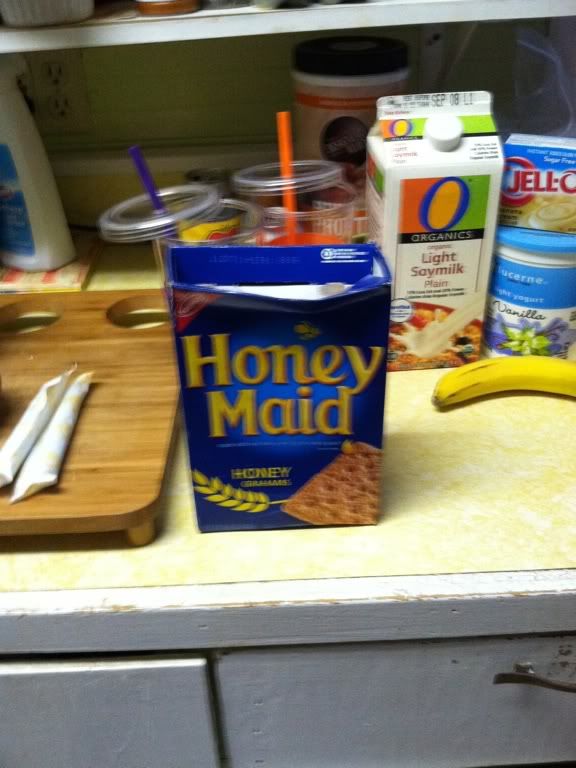 1 cup light plain soy milk (2)
1/3 cup FF vanilla yogurt (1)
1 banana, frozen or not (0)
1/4 package FF SF banana cream pie pudding mix (0)
1 1/2 (3 squares) graham crackers broken up (1)
1 scoop low cal vanilla protein powder (2)
Layer ingredients in blender in order shown and blend til smooth.
I doubled this recipe this morning, like I do most mornings actually, and gave the other half to my boyfriend. He took one drink and said this is his favorite one I have made so far! The graham crackers are not in the original picture because I had that stroke of genius after I had already taken the first one. Do add the graham crackers, for only 1p+ the texture and deliciousness they add is totally worth it! Enjoy :)
So I don't know if my scale is messing with me or what is happening but after a 2.6 pound gain last week I dropped 7.6 lbs on the scale this morning. I have been making really good food choices lately and I have been at a plateau for about a month so I think all my hard work finally caught up with me! I am going to go to the gym this weekend and a couple times next week to ensure these pounds stay off. Total weight loss to date: 32.2 pounds!!!! Just 17.8 pounds til goal, woooooooo!!!!!!!!!